February Book Club Discussion #1
After a week of exploring titles, finding a book, joining a group, and designing a club flag, students held the first Book Club discussion.  While talking to each other is natural, and at times, noisy: book club discussions are different and need a bit of facilitation.  The groups defined themselves with behavior norms, and guidelines, and a flag.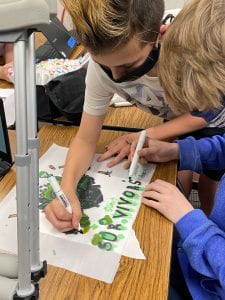 Popsicle sticks to the rescue!  Each group pulled 3 sticks with questions about the setting and characters to help them jump into a discussion about the book.  A list of lit circle sentence frames was also added to our toolbox for students who need some help on the give and take of a professional discussion.  Students are using a combination of tools to track interactions independently and as a group.  Novel packets, popsicle stick questions, sentence starter frames, weekly jobs, and periodic whole class interactions are some of the tools used.
As I visited various groups and dipped into conversations, I heard goal-setting, guidelines for tracking weekly discussions, and exciting talk about the books  The room hummed with purpose and intentional talk.  Students interacted and asked each other relevant questions.
The variety of book options allowed students to find that just-right choice.  Next week, the students will come with the work required by their book club jobs.  It will be exciting to pop in and listen to students dive into meaningful discussions while making connections to books.
Our tiny mascots for the book clubs are always on the look-out for exemplary group interactions.  Leave us a comment or ask a question below.  Students adore hearing from visitors!