We all have opinions about our schools, some good, some perhaps not so good. I would bet that we often take our schools for granted most of the time. Schools open up for class without any obvious fanfare. The teachers are in classrooms, the lunches are served, the playground hosts heated basketball and soccer games. It is a bit like Frank Baum's The Wizard of OZ; you do not see the work that occurs behind the curtains.

There are times when that curtain is flung open and our ordinary days are transformed into something special. Everyone is invited to take a peek.
Tonight, we shared what sets us apart with our district school board during our annual Night of Excellence.
Every year we recognize students, community members, and staff with the Excellence Award. This year, Gabby, one of my amazing 6th graders, was chosen. She displayed grace and leadership throughout the year and accepted the honor with maturity. Her shining smile was contagious.
Our blog is the first of its kind in the district and it has garnered much attention. Another of my incredible 6th graders explained the blog to the school board using an enthusiastic voice. Lily showed her enthusiasm when addressing the superintendent and board members. It was inspiring to listen to Lily's passion about blogging.
Bethany, a girl with presence, spoke of our Young Adult Book Society, YABS, a group whose mission is to promote books and literacy. The passion and conviction in her presentation made me realize that our school is driving our community in unexpected ways.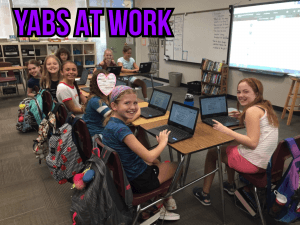 The school board was dazzled by a final performance by our Flamenco dancers, Ava, Gabby, and Paige,who were accompanied by guitar, drum and castanets. The dance summarized the unique community we get to participate in daily.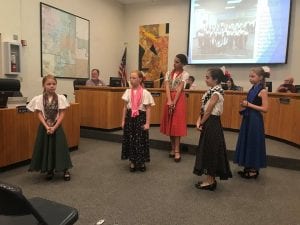 What makes your school unique? Share in the comments below.