Robin and Leigh nailed our virtual field trip this week.
COVID-19 may dictate how we can interact at school, think going from class to class with the same cohort of students daily, but a generous donor gave us the gift of a virtual field trip allowing us to travel from Cave Creek, AZ to Tucson, AZ.  That's right, we went on a field trip using Zoom, some incredibly engaging guides, and curious 6th graders. Students were squirming with excitement to see the animals #DesertMuseum brought into our classroom.
Sixth grader, Jackson M. says, "Arizona Sonoran Desert Museum was a blast!  Robin and Leigh were amazing.  They were very nice and answered a lot of questions.  It was so cool when we got to learn about animals, then got to see them.  My favorite was the bird, it was so interesting becasue I didn't know that the birds had built in sun visors.  Another thing is that the Sonoran Desert Tarantula has a bald spot on their abdomen because they kick their hairs at enemies.  Overall, it was amazing and I would definitely give them five stars."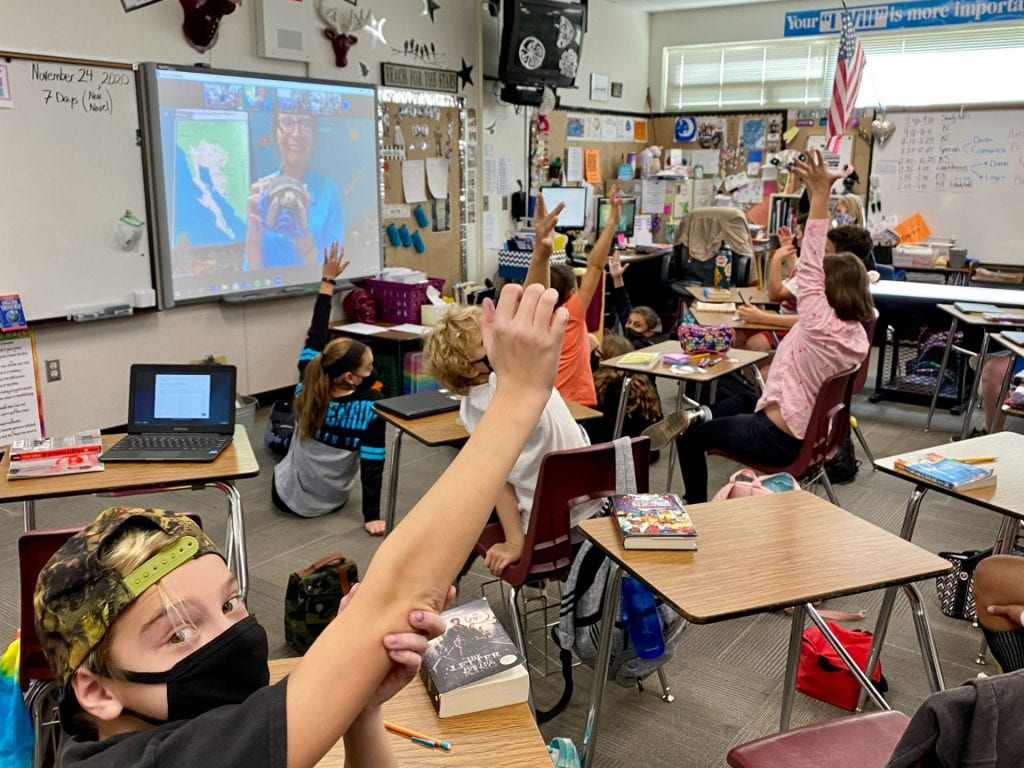 The Arizona Sonoran Desert Museum did a brilliant job of introducing adaptations in animals and plants found in our desert environment and even managed to involve our students.  Robin and Leigh teamed up to share facts both gross and fascinating about tarantulas, Kestrels, and tortoises.  Did you know tarantulas pull hairs off themselves to throw at predators as self-defense?
"I like the virtual field trip.  Sorry, not liked, loved.  It was fun that we got to answer questions and got answers we might not have known.  We still learned a lot even though it was virtual.  They only thing that could be better is if we did it in person.  Though it was still a fun field trip and I would definitely go there if I could," says Eoin S.
There was time for students to ask questions, make observations, and marvel over so much new information about our surroundings.  Read more about our experience in the student guest posts.
Olivia B. says, "All the 6th grade classes had a virtual field trip.  In my opinion, I love how the people who work at the Arizona Sonoran Desert Museum made a way for the 6th graders to explore plants and animals in our ecosystem virtual.  My favorite part of the virtual field trip was when we got to meet some desert animals like a tarantula, turtle, and a bird.  In conclusion, I had so much fun and I would recommend the virtual field trip for anyone!"
If you are interested in taking a jaunt to Tucson yourself, click HERE for more information.  I cannot say enough about how wonderful our time with ADSM was last week.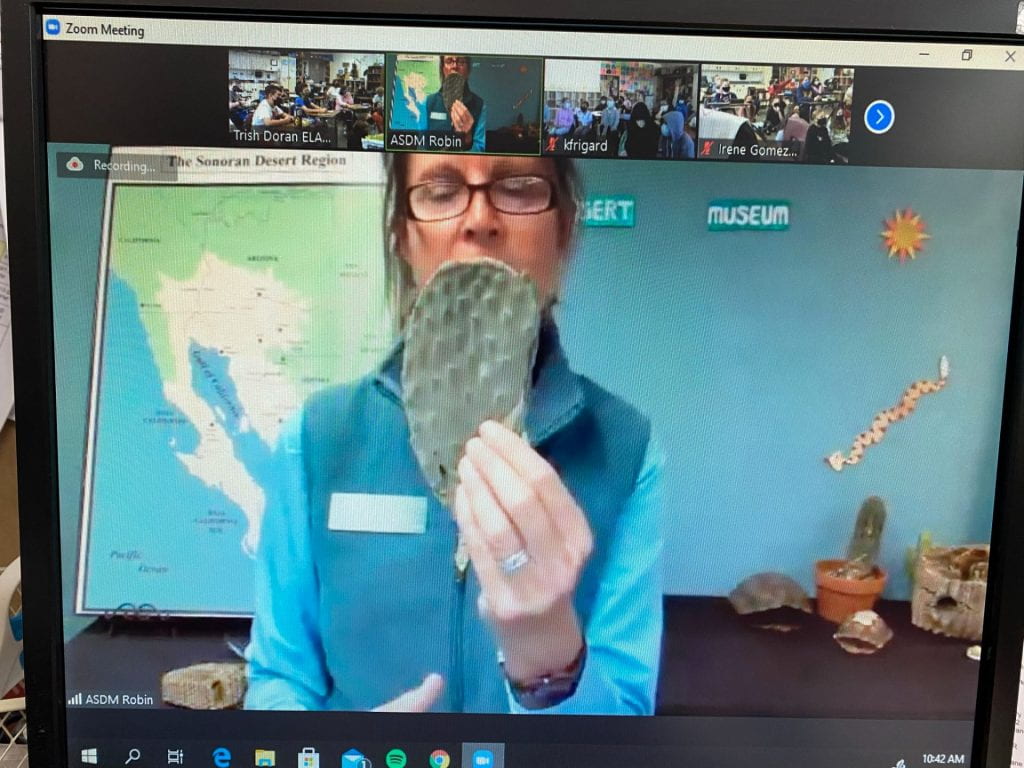 "So the Arizona Desert Sonoran Museum was the best thing that happened to me this year.  My favorite part was that they had an ample amount of facts about the animals they told us about.  During the show and tell about the animals, it was fun to analyze the pictures of the animals.  My favorite animal they showed was the American Kestrel because they are so small and loud," says Kody M.
Stella shared, "Last week my teacher Mrs. D set up a virtual field trip.  At first, I thought this would be a boring learning experience because it was on a Zoom call.  When we were in the middle of the presentation I realized this was a great learning experience and learning about the animals here was fascinating.  The ASDM staff were very helpful and great at explaining everything.  I got to learn things about the desert I didn't know before.  Thank you, Mrs. D and to the ASDM; I  had a wonderful time."
Finally, from Brennan N-K, "The online adventure was awesome and we learned a bunch of desert wildlife.  We learned about cacti, tarantulas, falcons, and lots more!  Once this corona virus is all over, I want to go there in real life!"