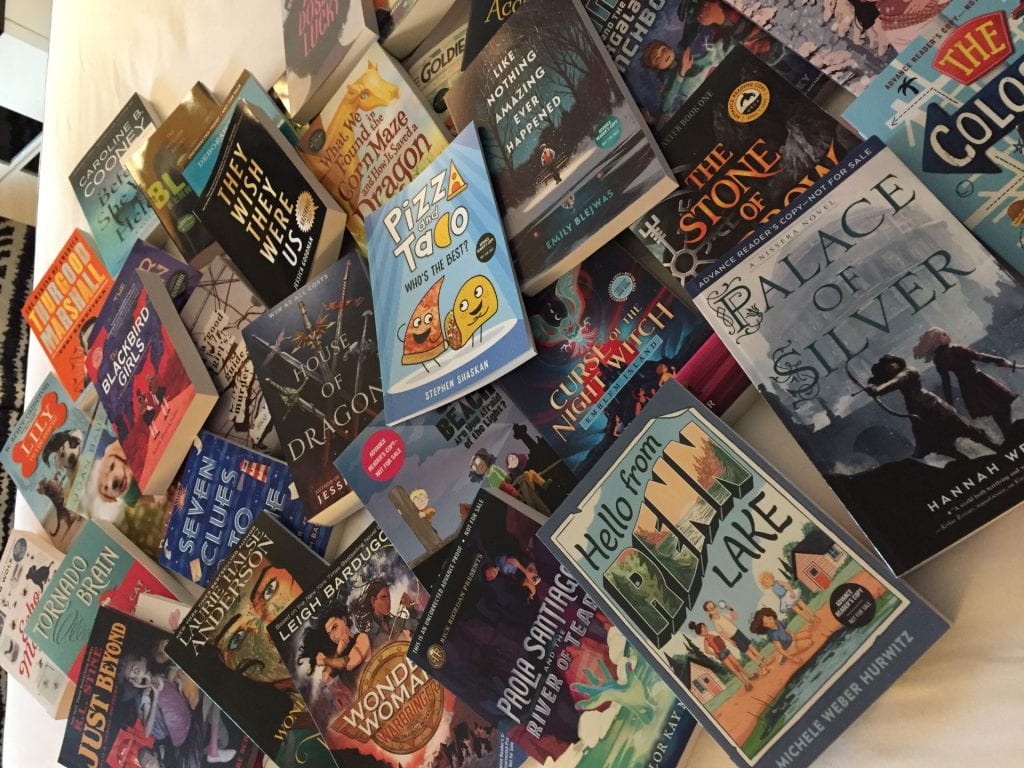 LOOK AT THE BOOKS I GET TO BRING BACK! 
All of them are traveling from Philadelphia to Arizona via my suitcases soon.  This means new books are coming into the classroom for students to explore (and that there may be a sidewalk rearrangement of my suitcases at the airport).  The ALA Midwinter Conference has been a bookish adventure of the best sort.  Meeting authors, talking to other teachers & librarians, and collecting ARCs to share is the highlight of my trip.  See any you are interested in?
In his book talk earlier today, Scott Simon, the author of Sunnyside Plaza, a young adult novel talked about how "children give you the courage to do the right thing".  His daughters helped him with the novel by giving him feedback throughout his writing process.  Simon also says that reading many books of different types will result in you being a better writer.  My inner writing teacher was cheering.  I can't wait to read his book!
In fact, all of the presentations I attended spoke about children & youth and how authors gain the feedback as well as the energy needed to get to the end of the writing task from young audiences.
The books in the above photo have advice on what you need to master before you grow up and move out of the house. I couldn't resist grabbing them. The text and activities are fun and you will love the illustrations. Plus, knowing how to mop a floor and have a conversation are somewhat (wink wink) important. You will thank the authors for the witty and fun approach to the skills.
I even saw books by the authors who visited our school:  Pablo Cartaya, Catherine Doyle (even though the visit was canceled due to her illness), and Dusti Bowling. It was fun to see them in a national format and know how much our students love reading these books.
I'm looking forward to sharing all of the amazing experiences with my students and flooding them with books to grow on.  Thanks to Penguin Random House, Little Brown & Company, Harper Collins, Scholastic, Abrams and more for providing so many ARCs during the conference!