Week 10 is the final week of the STUBC and I am proud of our efforts and open-mindedness as we learned to blog. Please take a moment to read the final challenge and create something to share with others that demonstrates your interests, blogging prowess and a bit of zany fun.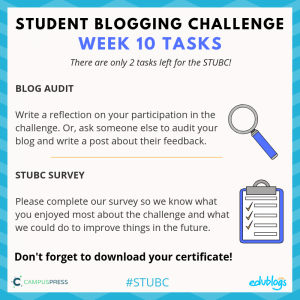 Please take the student survey too and print out your certificate of completion.
Student Survey: Blogging Challenge Spring 2019
Visit other blogs around the world and leave a comment and an invitation to visit your blog.